The Godox AD600Pro Witstro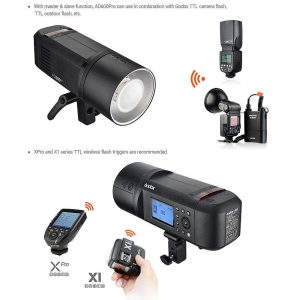 Color Temperature Improvements
One major and welcome improvement is a stable color temperature mode, which locks the strobe within 75 degrees of 5600K over the entire power range. Early findings slot this ahead of even Broncolor and Profoto. This is certainly promising and could potentially negate a major advantage those two brands had over the previous Godox model. As a previous user of the B1s and now the AD600, I can say you do notice these slight shifts with the latter when culling through a shoot.
Improved Modeling Lamp
Another highlight for me is the improved 38-watt LED bulb modeling lamp versus the ten-watt on the original non-pro model. With this modeling lamp boost, the Pro model is much more versatile as well competitive to the high-priced alternatives. It also becomes useful outside of just dimly lit studios.
2.4 GHz wireless system with a range of 328′ (100m), featuring five controllable slave groups and 32 channels
Guide number of 285′ (87m) at ISO 100
Can work as an optical slave with S1 and S2 modes
Color temperature of 5600K (±200K)
3.5mm sync cord slot for direct connection, wireless control port, and USB Type-C port for firmware upgrades
First curtain and second curtain sync modes
Dot-matrix LCD display for on-board control
Bowens-type mount for use with compatible accessories